Challenge and adventure are at the very heart of what we do at the Youth Adventure Trust. On Sunday 17th and Monday 18th September, YAT Chief Executive Mark Davey will be hiking 30 Peaks in 30 hours across the Lake District to raise funds to celebrate 30 years of life-changing adventure for vulnerable young people in Wiltshire and Swindon.
We believe that every young person should have the opportunity to go beyond barriers and fulfil their potential. Our outdoor activity based programmes and one to one support enable vulnerable young people to challenge themselves, experience success, learn to go beyond their own expectations and grow in confidence. More than ever, young people face huge challenges and we need your support to help them. Will you sponsor Mark today?
Each place on the Youth Adventure Programme costs £1,300 a year, so every pound or penny you donate will really empower young people to fulfil their potential.
The challenge
Mark will be hiking 54km with 4,303m of elevation to summit 30 of the Lake District's highest peaks in 30 hours.
Day 1: 12 Peaks covering 27.5km with 2,588m of elevation
Day 2: 18 Peaks covering 26.5km with 1,715m of elevation
Click on each peak for more information and sponsorship!
Follow Mark's progress
DAY 1: 06.00 Challenge starts
DAY 1: 07.39 Peak 1 Red Pike
DAY 1: 08.12 Peak 2, High Stile
DAY 1: 09.11 Peak 3, High Crag sponsored by SnowPeak
DAY 1: 09.24 Peak 4, Haystacks
DAY 1: 11.15 Peak 6, Green Gable
DAY 1: 11.45 Peak 7, Great Gable sponsored by Beard Construction
DAY 1: 13.41 Peak 8, Lingmell
DAY 1: 14.27 Peak 9, Scafell Pike, sponsored by Call of the Wild…this is the highest peak in England
DAY 1: 15.32 Peak 10 Great End
DAY 1: 16.37 Peak 11 Esk Pike
DAY 1: 17.01 Peak 12 Bowfell, sponsored by Trademark Tonic….this is the last peak of today
DAY 1: 17.49 Finish
DAY 2: 06.10 Start
DAY 2: 06.57 Peak 13 Red Screes
DAY 2: 08.00 Peak 14 Little Hart Crag
DAY 2: 08.45 Peak 15 Dove Crag
DAY 2: 09.11 Peak 16 Hart Crag, sponsored by World Extreme Medicine
DAY 2: 09.43 Peak 17 Fairfield
DAY 2: 12.12 Peak 20 Dollywagon Pike
DAY 2: 12.54 Peak 21 Nethermost Pike, sponsored by Yellow Dot
DAY 2: 13.16 Peak 22 Helvellyn, sponsored by Arval
DAY 2: 13.41 Peak 23 Lower Man
DAY 2: 14.05 Peak 24 Whiteside
DAY 2: 14.23 Peak 25 Raise
DAY 2: 15.22 Peak 27 Watson's Dodd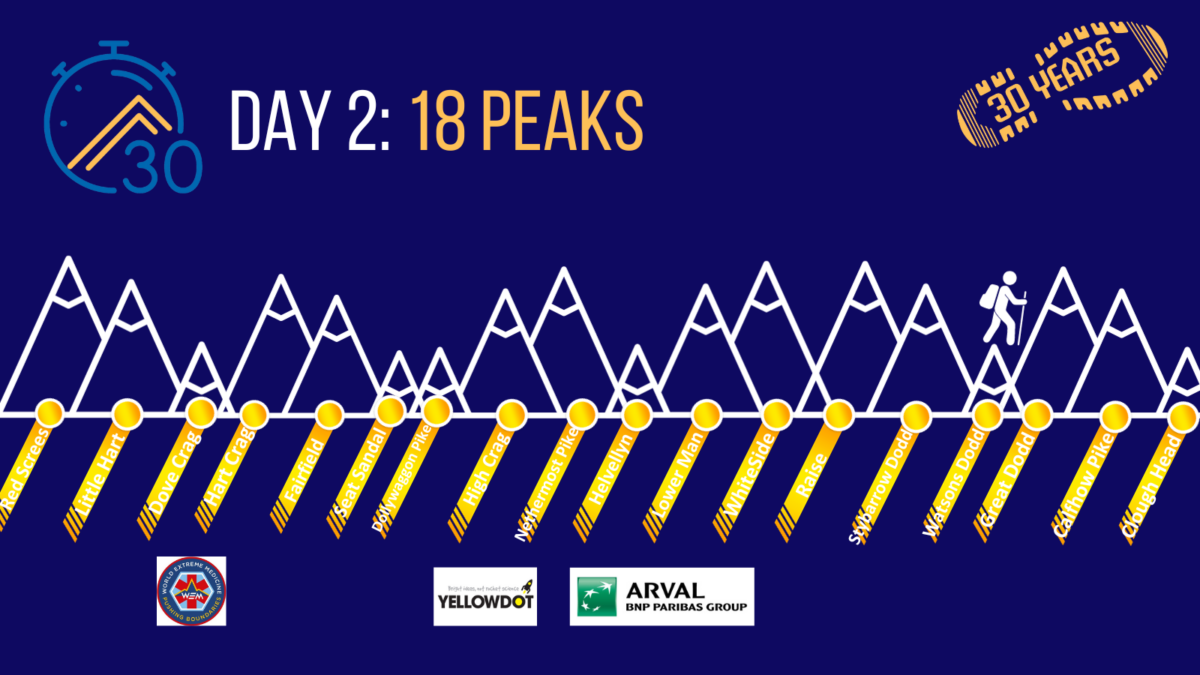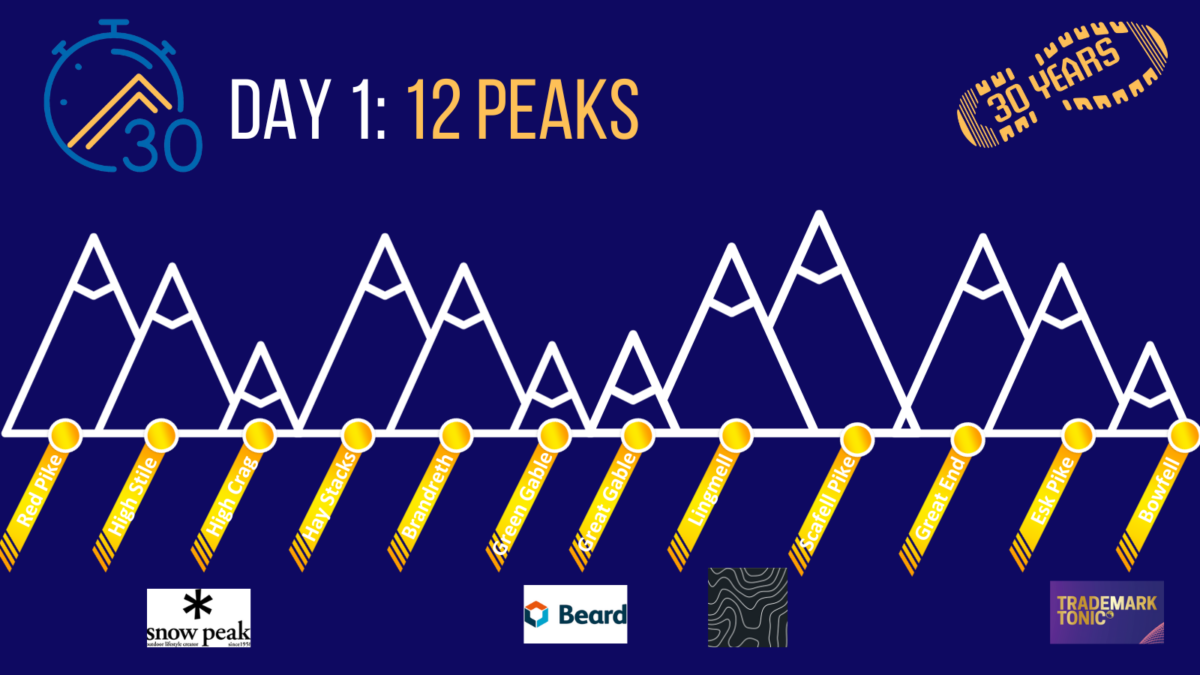 Sponsor a Peak
We are asking companies and individuals who have been part of the YAT success and supported us over the years to sponsor a peak or peaks in return for being part of the associated social media campaign. For a donation of £500, Mark will take a picture with each peak's associated sponsor logo which will also be widely shared across social media as well as listed here and on Mark's fundraising page.
Will you consider joining us to enable more young people to challenge themselves? To join the team, please contact Philippa on 07956 934 100 or philippa@youthadventuretrust.org.uk.
With huge thanks to our Peak Sponsors for their generous support: