What we do
The Youth Adventure Trust uses outdoor adventure and one-to-one support to empower vulnerable young people, aged 11-16 from Wiltshire & Swindon, to fulfil their potential & lead positive lives in the future. We work with them to build resilience, develop confidence & learn skills that will last a lifetime, helping them to face the challenges in their lives.
We believe that all vulnerable young people should have access to personal development opportunities so that they can fulfil their potential in the future. We also believe that learning in an outdoor environment is a key part of a young person's development and that an early intervention that starts at age 11 and is long-term, will equip young people with skills that will last a lifetime. Young peoples' circumstances can lead to them making poor choices that will affect the rest of their lives. On our programmes they learn to make positive decisions, believe in themselves, exceed their expectations and achieve their full potential.
We help up to 360 young people a year develop these key skills through the challenge of outdoor adventure. We support each young person to build on their personal strengths through our individualised support and feedback, enabling them to become reflective, see their abilities and challenge themselves to develop in the ways which will help them in the long term.
The hurdles these young people face in their everyday lives can often seem overwhelming, but we give them a real chance to change, helping them to believe they can have an influence on their own future. We equip them with the resilience to overcome their challenges, enabling them to develop confidence, independence and the ability to flourish despite difficulties.
The Youth Adventure Trust has been using outdoor adventure to inspire young lives for 30 years. Since we began, we have helped 1,960 vulnerable young people aged 11-15 and we have facilitated more than 430,000 hours of activity participation. We broaden the horizons of young people who otherwise are unlikely to experience such valuable opportunities. There are no financial barriers to taking part as our programme is entirely free of charge to all the young people, their families and the organisations who nominate them to take part.
Today we run four different YAT Programmes:

The YAT Adventure Programme runs over 3 school years, from Year 7 to Year 9, and includes 3 residential camps and 8 different one-day activities. The young people are supported throughout by their dedicated Programme Manager.

Launched in 2023, the YAT Resilience Programme is a year-long programme which includes monthly activity days, supplementary take-home activities, and a coherent thread that guarantees a progressive and meaningful experience.

The YAT Mentoring Programme is for selected young people who have completed another YAT Programme but are identified as in need of further, more individualised support. It includes fortnightly one-to-one sessions with a volunteer mentor for up to one year.

All young people who have completed a YAT Programme can apply to our Bursary Programme for assistance with kit, membership fees or travel costs to support their next step into ongoing positive activities.
Young people are nominated for our programmes by our designated referral partners who are selected secondary schools and young carer organisations across Wiltshire and Swindon. We work closely with these partners to ensure each place on our programme is given to the young people who need it most. All of the programmes have a strong emphasis on personal development and self awareness, with young people participating in frequent review sessions, setting their own goals and aims, and being supported to reflect on and take ownership of their outcomes.
Visit the Young People section of our website to find out more about our programmes.

Our volunteers
We rely on our team of 200 volunteers to run our Programmes and help on our challenge events. In 2022 we filled 335 volunteer places and received 11,768 hours of volunteer time – the equivalent of 32 hours per day every day of the year; this would have cost £111, 796 if we had paid each volunteer a living wage.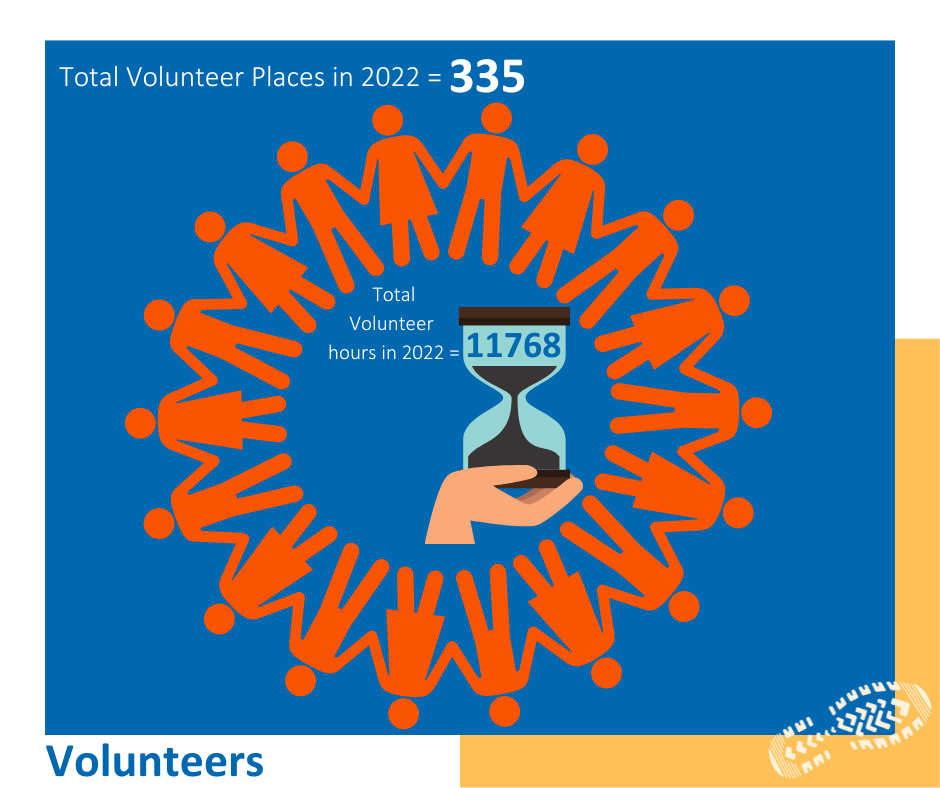 Our costs
A place on our programme costs an average of £3,900. We don't have any government contracts in place and rely on the support of generous individuals, businesses and grant funders to deliver our service. Find out more about our supporters here.